Centuries-old history
The cradle of Ladin culture at the foot of the Dolomites.
Experiencing the Dolomites means getting to know the Ladini, a people proud of their heritage, traditions, language, and culture thriving in a unique area where hospitality is key.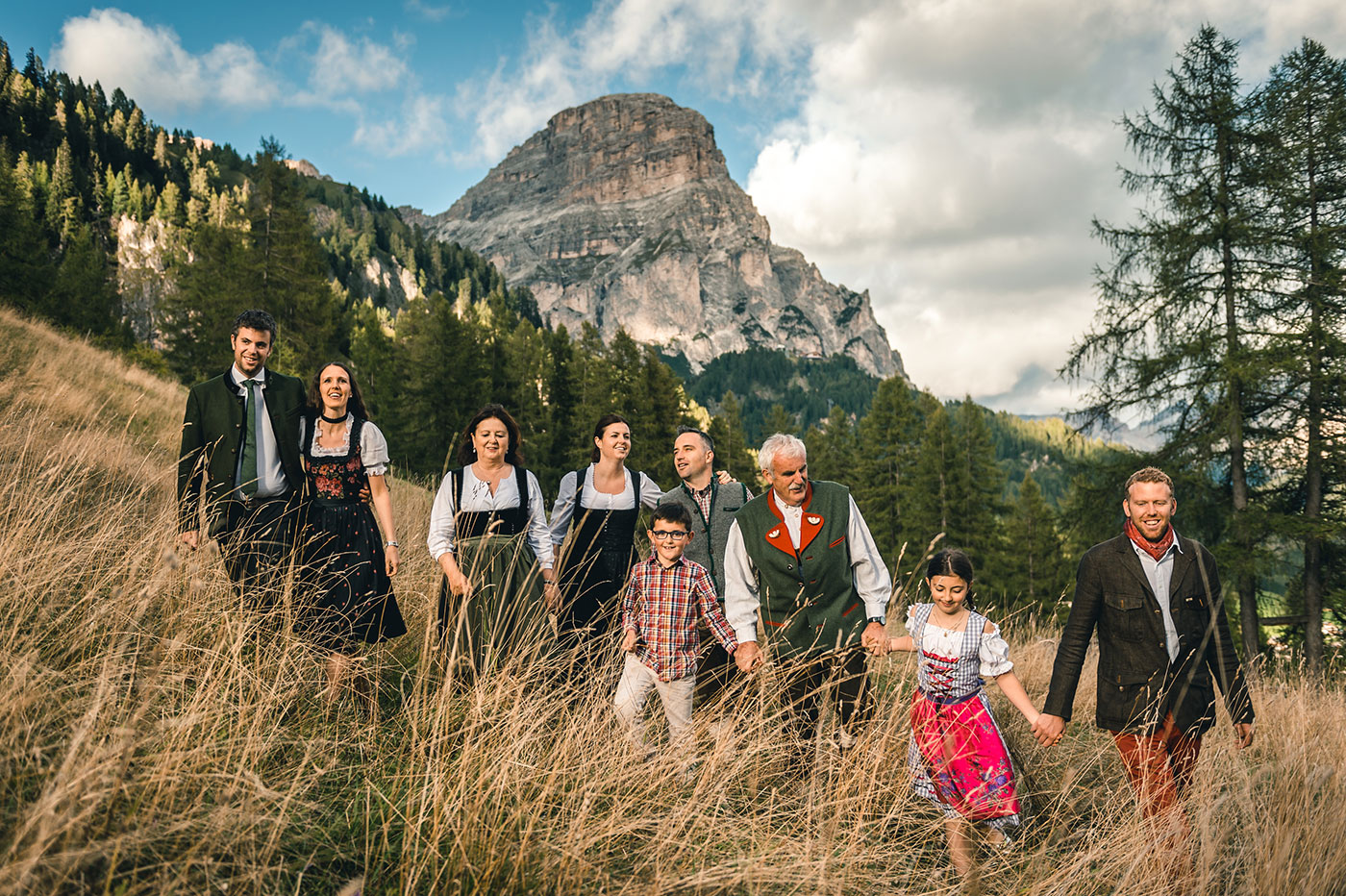 Events and traditions
Summer and winter events, celebrations, and festivities.
Ladin culture is celebrated season after season. Contemporary and traditional events, locations, food, lifestyle, and a world of fun await you throughout the year.
Further information
Museum Ladin, a castle and modern infrastructure to tell a long story.
Two places in Val Badia are dedicated to telling the Ladin history and culture. The Museum Ladin Ciastel de Tor, in San Martino in Badia, opens a window onto the legendary Ladin world, accompanying guests on a rich tapestry of archaeology, geology, craftsmanship as well as exploring the development of tourism across the Ladin valleys in the Dolomites. The Museum Ladin Ursus Ladinicus, in San Cassiano, is dedicated to the Dolomites prehistoric bear. The interactive exhibition covers three floors and guides visitors across the story and habitat of this 'cave-bear' which lived 40,000 years ago, as well as including information about the main stages of the Dolomites' birth.
Museums
Craftsmanship in Val Badia
An art living on the edge of traditions and passion.
Over the course of the centuries, crafts have represented an important means of living beside agriculture and farming for the Ladin valleys. Passed down from one generation to the next, these trades were born out of necessity. They slowly became a passion which can now be admired across various shops in the valley, where you can marvel and purchase strikingly beautiful products and decorations.
Dolomites
The Dolomites: where culture comes alive.
When it comes to describing the beauty of the Dolomites, nothing comes close to the real thing. Infinite beauty is the perfect stage for contemporary visual art. Thanks to the dedication of cultural institutes and associations, there are countless initiatives at the heart of the cultural Ladin offer. The 'Tru d'artisc' stretches between La Villa and San Cassiano: this outdoor gallery is home to works by different Dolomites' artists. SMACH has left its mark across San Martino in Badia, a land art project which translates into a biennial outdoor exhibition. The Unika and Biennale Gherdëina take place just over Passo Gardena, the valley home to its famous wood carvers, attracting the attention of artists and guests from all over the world.
Your holiday in the Dolomites.
Your holiday in the Dolomites.
We work with
Our partners