Your special day
Cherish it forever
Getting married in the heart of the Dolomites is a dream that can come true: exchange vows in a fairy-tale location covered by a white mantel of snow or under warm rays of sunshine. Let yourself be pampered by our staff, and your every wish will come true.
Let us help you on your special day.
Tailored weddings.
Not everyone can say they got married next to the babbling Pisciadù waterfall or atop Passo Gardena and its clear, blue sky. Or even at Braies Lake, a location which will be a stunning backdrop for your ceremony. Everything is possible, thanks to the presence of an officiant who can legally recognise your civil rite wherever you decide to exchange your vows. You are in good hands: leave the rest to us. What to expect:

• an amazing location with a recently renovated dining hall, comfortable rooms furnished in impeccable South Tyrolean style, a private garden set in the breathtaking landscape of the Dolomites;
• a creative and traditional cuisine with home-made meals accompanied by a range of more than 300 wines;
• more than 20 years' experience in organising weddings with nothing left to chance, all carried out with elegance, professionalism, and creativity;
• all the support you need to transform your wedding into an unforgettable event: a photo shoot, flowers, live music or DJ set, hairdresser, table decor, rich, sumptuous buffets, wedding cake and personalised menus, shuttle service to the church;
• a stunning Dolomite scenery before the Sella Group: cherish the memory of the Dolomites forevermore.
A dream come true.
A romantic and unforgettable honeymoon: absolute perfection!
We love pampering newlyweds ensuring their every wish comes true. This is what they can expect when spending a magical honeymoon in our hotel surrounded by the Dolomites:
• a welcome aperitif
• a bottle of Prosecco and a basket of fresh fruit awaiting in the room
• a romantic gourmet sunset menu in our blue 'Stube' with a view over the Sella Group
• a picnic for two on a beautiful Alpine meadow
• a surprise breakfast in bed
• a selection of oils and candles for a soothing bath
• a rose petal bath and relaxing massage
• Stay in one of our suites (subject to availability) Minimum stay: seven days.
A wonderful alternative
Getting married at the Col Pradat, our lodge with a spectacular view over the Dolomites at 2,000 m altitude.
Il The Col Pradat lodge is an ideal venue for a lofty wedding: the scenic terrace at 2,038 m boasts a wonderful view over the Dolomites; the spacious garden is an ideal spot for an aperitif, while the spacious and scenic dining hall is ideal for your banquet. The lodge has all the space you need to dance into to the small hours of the morning as well as music, fireworks, and sky lanterns. Traditional cuisine, a vast choice of wines, a personalised cake and a scenic view over the Dolomites are the ideal combination to celebrate your special day on top of the world.
We will be by your side: our go-to wedding planner will take care of every little detail and transform your wedding in the heart of the Dolomites into a wonderful experience you will cherish forevermore.
Thanks to our consummate professionals, we can take care of everything: make-up, hair, photos, music (harp, alphorn, DJ, band), tailored decor, children entertainment, transfer on a 4x4 and gondola lift. And to make your wedding magic last even longer...
• stay in a Deluxe room;
• a romantic breakfast in the 'eagle's nest';
• exclusive access to the SPA of the Luxury Chalet Rönn;
• couples' massage.

We want you to be happy!
Love is love
Symbolic wedding
If you are looking for a unique venue in the Dolomites for a symbolic wedding, our Col Pradat lodge is ideal for whoever wants to celebrate their wedding anniversary, exchange vows, or celebrate your same-sex nuptials. Our Col Pradat lodge boasts a scenic terrace with a breathtaking view of the Dolomites, a vast garden, a spacious scenic dining hall, and as much space as you need to have fun until the wee hours of the morning with music, fireworks, sky lanterns and much more. Traditional cuisine, a vast choice of wines, a personalised cake and a scenic view over the Dolomites are the ideal combination to celebrate your symbolic wedding on top of the world.
A picture-perfect farmstead
Munt d´ Agagn: set in the Puez-Odle Nature Park
Our guests will be spoilt for choice, and our offers reflect that. Why not experience living in a genuine, Ladin farmstead? The wooden abode is steeped in history and has been refurbished to offer modern creature comforts.

Welcome to Longiarü, a charming site nestled in the Puez-Odle Nature Park. This refurbished, genuine farmstead can host between two and four people and features a main house and a small Stuben which will open in summer 2021. Dive into a world of genuine emotions and live a one-of-a-kind experience surrounded by the Dolomites' beautiful nature.
The farmstead boasts a view over the Odles mountain range and consists of a 'tablé' – a typical barn – with wooden furnishing, a bedroom (double bed and bunk bed), a chimney, bathroom with showers, and a 'ciasota', a small, traditional Stuben featuring a bench, chairs, table, kitchen, and small chimney.
You can easily reach the farmstead on a 20-minute walk or head there by car. We are happy to organise gourmet dinners cooked by our very own chef, or traditional Ladin dinners prepared by local farmers; South Tyrolean wine tastings with one of our sommeliers; Ladin cooking courses to learn how to prepare strudel, canederli, goulash, turtres ravioli and much, much more; aperitifs and barbeques, as well as unforgettable events and celebrations.
Ideas for an unforgettable holiday
The Dolomites and you.
Every season comes with new, incredible offers for our guests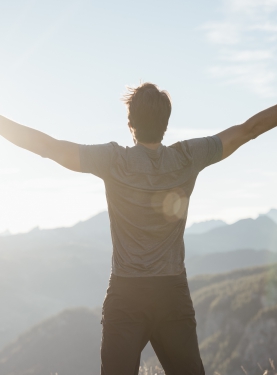 14.04 - 01.10.23
NEW SUMMER 2023 !
NEW SUMMER 2023from 10.06. to 01.10.2023 ->...
Discover the offer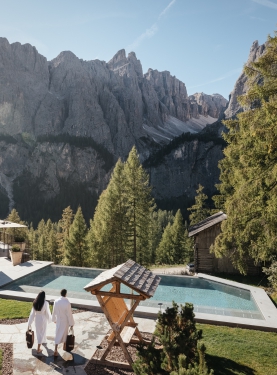 16.04 - 02.11.23
Discovering Alta Badia - one week
A magic of blossoms
from 489,00 € per person
Discover the offer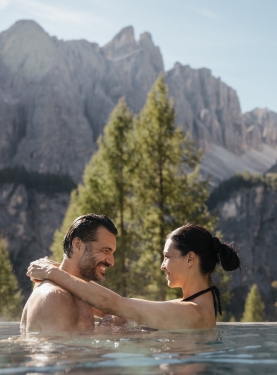 26.08 - 29.10.23
Magic wellness moments in the Dolomites
The offer includes for stays of minimum 2 nights: - 1...
from 465,00 € per person
Discover the offer
Your holiday in the Dolomites.
Your holiday in the Dolomites.
We work with
Our partners